While support for legal cannabis is growing, the restrictions on retail marijuana are pretty intense. Dispensaries are, after all, handling a federally illegal substance. While most dispensary owners understand why compliance laws have to be strict, that doesn't make following these rules any less complicated.
Thankfully, there are now many POS systems catering to cannabis retailers. Not only will these products keep your business legit, they could help you boost your bottom line. A properly-installed POS system will serve an essential function in your dispensary's operations.
What Is a Dispensary Point of Sale System?
Often abbreviated "POS," point of sale systems are retail-oriented programs that help businesses with their day-to-day operations. In addition to tracking sales and inventory, POS software can organize information for taxation, analyze consumer patterns, and initiate loyalty programs.
The only difference between retail POS and dispensary POS is that the latter has special features for people in the cannabis industry. Most significantly, dispensary POS systems help businesses stay compliant with their state's cannabis laws. This includes seed-to-sale tracking, taxation reporting, and age verification scanners.
Anyone in the cannabis industry should only invest in a POS designed for dispensaries. Not only will this POS keep you up-to-date with your state's laws, it will make it easier for budtenders to process transactions.
Key Features of a Dispensary Point of Sale System
The most significant features in any dispensary POS system are related to compliance laws. Your POS system should integrate with your state's approved seed-to-sale tracking protocol (e.g., Metrc). You should also verify your POS provider can handle taxation, inventory management, and any state-specific reporting procedures.
Of course, POS should also facilitate fast, secure, and easy payments at your business. In the cannabis sector, this means using ID scanners to verify each customer's age and buying patterns. Since every state has different purchase limits, cannabis owners need POS to ensure they're not selling too much weed to any one customer.
Besides keeping you compliant, this customer tracking feature can help you make shrewd business decisions. Indeed, many POS systems have built-in business analytics so you could monitor your most successful employees, products, and promotions. With this valuable data, you could devise and deploy loyalty programs, sales, or advertisements via your POS protocol.
Sometimes, dispensary POS systems offer bonus features like weed delivery tracking, in-app queuing, and SMS texting. There are even some companies that provide Smart Screens to display menus in your store. While these add-ons are neither necessary nor available in every software, they could make your dispensary stand out.
Best Dispensary Point of Sale Systems
1) Dutchie POS
Site: https://business.dutchie.com/pos
Demo: https://business.dutchie.com/get-started
Best For: Those looking for an all-in-one dispensary solution with hardware, integrated payments, online ordering, and seed-to-sale functionality
Dutchie started out as a cannabis ecommerce platform, and that's how most consumers still view it. But that changed for cannabis business owners in 2021 when the company acquired both the leading cannabis POS system by US market share, Greenbits, and one of the top cannabis ERPs, LeafLogix. In 2022 it released Dutchie POS, a solution that combined many of the features of Greenbits and LeafLogix, along with many new features of its own, into one platform.
If you're looking for an all-in-one dispensary POS system and are a fan of Dutchie products, Dutchie POS is tough to beat. Not only is Dutchie POS a full seed-to-sale platform (in case you want to vertically integrate/expand at some point) and obviously integrates well with the Dutchie ecommerce platform, but Dutchie POS can also be bundled with proprietary Dutchie Register hardware, and can pair with a fully integrated payment solution called Dutchie Pay.
Also, money isn't everything, either in life or in software, but it can buy a lot of really talented developers, engineers, and support staff, and Dutchie is by far the best-funded and largest software company in the space.
Security and reliability-wise, Dutchie is HIPAA compliant for medical dispensaries, SOC 1 and SOC 2 compliant, and uses FIPS 140-2 compliant encryption both at-rest and in-transit. The service currently has 100% uptime since its launch in October 2022 as of February 2023.
2) COVA
Site: https://www.covasoftware.com/
Demo: https://www.covasoftware.com/demo
Best For: Those looking for a dependable, widely-trusted, easy-to-use dispensary POS system, and that are planning to stick to retail
Cova and Dutchie are viewed as the market leaders, the Burger King and McDonalds of cannabis POS systems if you will. (According to the 2022 Cannabiz Media POS Market Share Report, Dutchie has about 21% North America market share vs. 16% for Cova.) If you follow the two closely, you'll notice that a lot of Cova marketing is usually a not-so-subtle dig at Dutchie. And it certainly wasn't an accident that they both announced their integrated payment solutions on the same exact day in July 2022.
Cova started by building up a dominating market share in the Canadian market (where it currently has nearly 50% of the market), and is now trying to challenge Dutchie and other POS systems in the US.
Many of our clients in Canada use Cova, and we can confirm it's a solid product: fast, super stable and reliable, easy to learn and use, and their support team is very friendly and responsive. They are HIPAA, PCI DSS, and SSAE 18 SOC 1 compliant, and host their software on a highly-reliable active-active Microsoft Azure architecture.
Unlike Dutchie POS (and ironically considering POS is in the Dutchie POS name), Cova is not a seed-to-sale platform, just a POS. But it integrates with the cannabis ERP Canix if you need that extra functionality.
3) Treez
Site: https://www.treez.io/
Demo: https://www.treez.io/request-demo
Best If You're Looking For: Better state reporting integration and support, or a POS company that's big enough to trust but small enough to be responsive to user feedback
Like Meadow and BLAZE (see below), Treez is a California-based cannabis POS software company that seems to have a strong presence in its home state but less penetration elsewhere. They've recently set out to change that, raising over $50 million in funding and acquiring and integrating a payment solutions company. They market themselves as "the most powerful POS for cannabis businesses" and emphasize their strong compliance and analytics features. Their customer reviews mention stellar 24/7 support, seamless integration with state reporting systems, and the Treez team's willingness to listen to users and develop new features and functionalities based on their feedback. If you've found other POS systems lacking in terms of ease-of-use, integrations, and support, give Treez a look.
4) BioTrack
Site: https://www.biotrack.com/
Demo: https://biotrack.com/request-a-demo/
Best For: Those looking for a feature-rich, vertically-integrated dispensary POS; also if you're looking to self-host your software
The Florida-based BioTrack is one of the oldest and most respected dispensary POS providers in the business. Most famously, this company was behind Washington State's first successful Traceability System in 2013. For over ten years, BioTrack has helped thousands of dispensaries with features like automated data entry, CRM, and customized label creation. 
5) Flowhub Maui
Site: https://flowhub.com/
Demo: https://flowhub.com/demo
Best For: Those looking for a dispensary POS system with an attractive, modern design and strong customer support
Flowhub is a Colorado-based POS provider that has been in business since 2015. Since its founding, this company has won over thousands of customers with its sleek Apple-like design and 99.9 percent uptime on AWS and Google Cloud. Flowhub also claims it was the first company to successfully integrate with the seed-to-sale tracking system Metrc. 
6) IndicaOnline
Site: https://indicaonline.com/
Demo: https://indicaonline.com/scheduledemo/
Best For: Those looking for an all-in-one cannabis dispensary POS system that includes hardware and strong delivery features
IndicaOnline is another well-known POS provider that offers fancy perks like digital TV menus, SMS marketing, and integration with Weedmaps. However, please keep in mind IndicaOnline offers a basic and premium plan with different features and prices. Also, IndicaOnline has a dedicated delivery-tracking service for dispensaries that are interested. 
7) GrowFlow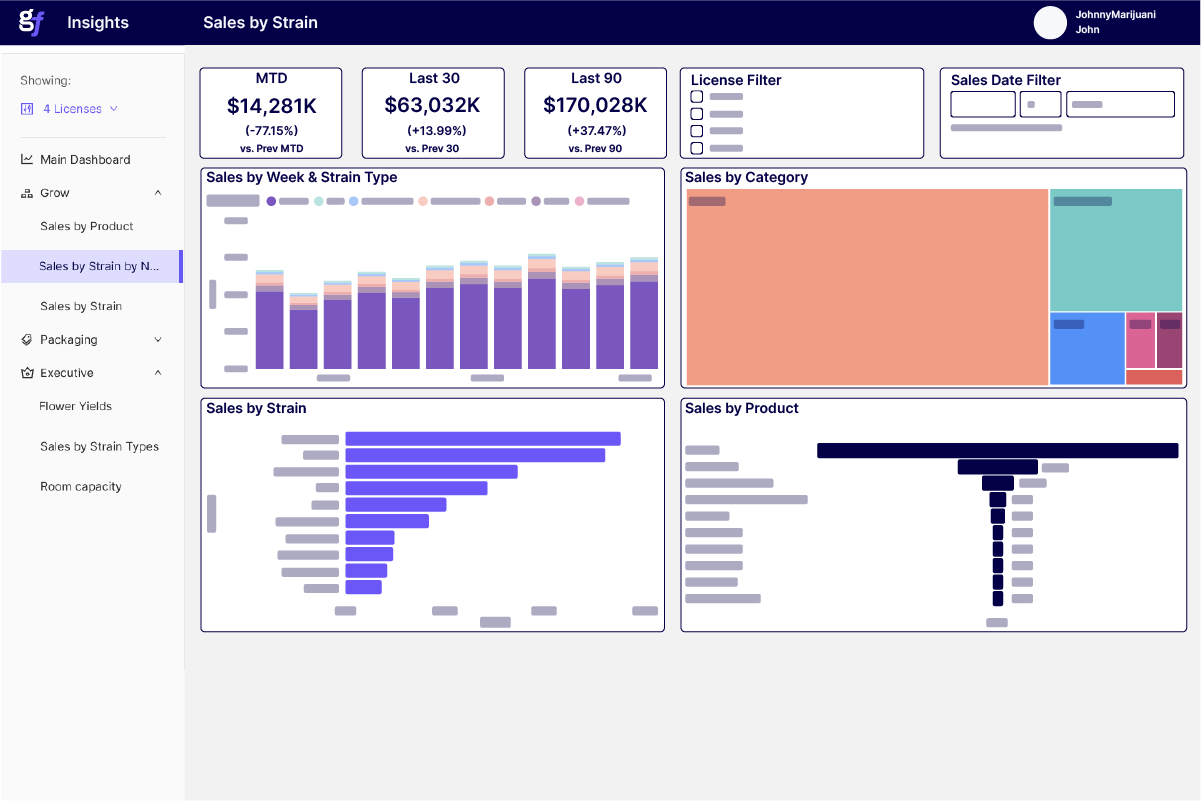 Site: https://www.growflow.com/
Demo: https://www.growflow.com/demo
Best If You're Looking For: a well-designed, popular dispensary point of sale system that also supports distributors; also, one built specifically for Washington state and its relatively niche Leaf Data track and trace system
Headquartered in Seattle, GrowFlow is a highly regarded POS provider that now works with over 1,200 dispensaries. Companies who use GrowFlow enjoy easy-to-navigate screens, visual data points, and instant alerts on inventory and employee performance. One unique feature offered with this POS system is the GrowFlow Live function, which allows retailers to connect with wholesalers in real-time. 
8) BLAZE
Site: https://www.blaze.me/
Best If You're Looking For: a California, delivery-centric, vertically-integrated dispensary point of sale system
Dispensaries that prefer using Apple products may be interested in the iOS-enabled BLAZE POS. This Metrc-compliant software has multiple features that make purchasing pot a breeze. For instance, the BLAZE app allows your customers to self check-in rather than waiting in lengthy lines. For swift transactions, BLAZE now offers its proprietary BLAZEPAY debit and credit platform.
9) MJ Platform
Site: https://mjplatform.com/
Demo: https://mjplatform.com/request-a-demo/
Best For: Those looking for a vertically-integrated seed-to-sale platform with strong financial backing
MJ Freeway deserves credit for being the world's first successful dispensary-focused POS system. Launched in 2010, MJ Freeway places a heavy emphasis on each client's ROI with features like automated reminders on inventory, data visualizations, and staff scheduling tools. Today, MJ Freeway hopes to expand its reach in the cannabis supply chain as a part of the Akerna company.
10) Greenline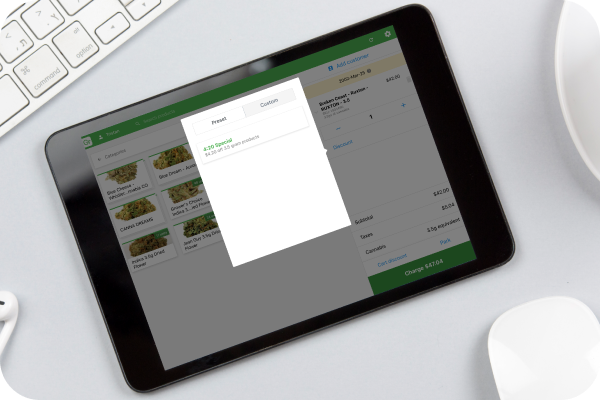 Site: https://getgreenline.co/
Demo: https://getgreenline.co/schedule-a-demo/
Best If You're Looking For: a Canada-focused dispensary point of sale system
Greenline markets itself as the premier POS system for Canadian dispensaries. All of Greenline's systems have been integrated to comply with Canada's current cannabis standards. In addition to Canadian compliance, Greenline offers perks like digital signage, online menus, and integration with Leafly or Merrco.
11) Meadow
Site: https://getmeadow.com/
Demo: https://getmeadow.com/#upgrade-now
Best If You're Looking For: a California and delivery-centric dispensary point of sale system
If cannabis delivery is your game, Meadow may be your solution. Interestingly, this company began as a cannabis delivery website operating in California. Over time, Meadow evolved into a full-fledged POS provider for Californian dispensaries. To this day, the Meadow team specializes in providing tracking and compliance reporting for CA dispensaries that offer delivery.
How to Choose a Dispensary Point of Sale System
There's no magic formula for choosing the perfect dispensary POS system. Every business owner needs to review their budget, preferences, and needs before researching any of the companies listed above. However, no matter which POS you go with, compliance should be your top concern.
If your POS system won't work with the cannabis laws in your state, then there's no point investing in it. The main point behind installing a dispensary POS is to take all the legal hassles off your back. Be sure your POS provider has a thorough understanding of your state's cannabis laws and that they will keep abreast of the latest cannabis law developments.
After you've squared away compliance issues, take a look at your POS provider's bonus features and aesthetics. Ask yourself whether this company's offerings are a good fit for your store's vision. If possible, contact the POS company directly and ask for an in-store trial. Demos are a fantastic way to see how a POS system works for you without making a commitment.
You should also chat with your POS provider's customer care division and gauge how easy it is to reach a representative. Ideally, there should be no issues contacting customer service whenever you have a question.
Lastly, be sure to ask what happens in the event of a blackout or poor Internet connection. Even if the power goes out, you need to be sure your POS can keep chugging.
OK, I've Chosen My Dispensary Point of Sale System—Now What?
Since every POS system is slightly different, there's no general walkthrough for setting up this software. However, you will need to verify your hardware and preferred back-end systems integrate with your POS provider's offering.
Thankfully, most POS providers now offer in-person installation to help take the burden off your shoulders. Even if your POS company doesn't install your system on-site, they should provide robust customer support to help you along the way.
Of course, Cure8 is also here to help you master your cannabis IT needs. Whatever you need for your cannabis business, we're sure you'll find it in our extensive POS catalog. For more information or a consultation, be sure to call Cure8's team at (855) 394-1420.